We are located at 3350 Lookout Dr. Forest Hill, Tx. 76140.
817-551-3700 Our hours are:
Mon -Tues -Thurs -Fri: 7:30 a.m. to 6:00 p.m.
Saturday - 8:00 a.m. to 1:00 p.m.
Closed Wednesday and Sunday
All Credit Cards Accepted
Dr. Betty McDaniel is the proprietor of The Animal Clinic Of Forest Hill.
She is a graduate of Tuskegee University, and has been located in Forest Hill since September, 1996. Dr. McDaniel specializes in small animal medicine and surgery. Also works with exotics.
FULL SERVICE ANIMAL CLINIC
Grooming also available, by our Professional pet stylist.
Take a look at our money saving coupon below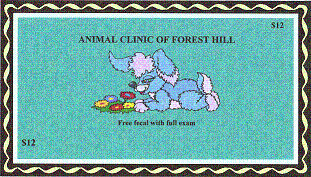 Protection Begins At Home

Photo Album
Guestbook

Bulletin Board

Contact Us

Links

The Animal Clinic of Forest Hill

Visit with some of my colleagues for a closer look at things we offer:
Contact Us
ABLE K-9 ACADEMY
12750 Rendon Rd
Burleson, 76028
(817) 516-7041